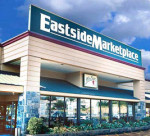 Friendship Fund Receipt Program
Give to the Friendship Fund – it's simple. Every time you shop at Eastside Marketplace, just send us your cash register receipts. When we reach $2,500 or more, Eastside Marketplace will donate 1% of the receipts' cash value to Groundwork Providence.
It's Easy to Give…
Send your Eastside Marketplace receipts to:
Groundwork Providence
8 Third Sreet
Providence, RI  02906
We thank you for your contribution!
The Friendship Fund is a receipt/rebate program available to charitable organizations and non-profit groups, and is one way Eastside Marketplace gives back to the community.  We collect Eastside Marketplace register receipts, total them, and return them to the store. Eastside Marketplace then makes a donation to the Conservancy equal to 1% of the total.