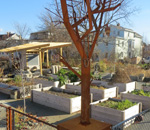 The Groundwork Rhode Island Community Garden is located at 14-16 Ring Street in Federal Hill.  It is composed of two lots in a historic residential neighborhood.  Before Groundwork Rhode Island took ownership of these lots, they were an eyesore.  For years, the parcels were a mostly-vacant, trash-filled parking lot.  Over the past several years, we utilized the latest methods in adaptive reuse of underutilized urban parcels to activate the space and make it one of the most dynamic community gardens in Providence. 
A Dynamic Transformation
After the removal of asphalt, 6 garden spaces were laid in the ground.  Thirteen additional raised garden beds were constructed on the remaining asphalt.  In order to complement the mature Walnut tree in the garden's center, a number of native and diverse species of trees were planted along the garden's perimeter.
The Steelyard also constructed a fence with floral patterns and towers in the form of a steel tree and bird bath in the garden.  Rather than dispose of asphalt off-premises, the pieces of asphalt that were removed from the parcels were incorporated into the design of the fence.
DownCity Design, in conjunction with students from the Met School, designed and constructed an outdoor teaching laboratory on the premises, which will be used for garden-based and outdoor education for school kids and other visitors.
Since 2018, Groundwork RI has been using a portion of the garden for our Harvest Cycle Compost program. Additionally, we have a 12-space parking area adjacent to the garden, where neighbors can park for a monthly fee.
For more information about our Community Garden program, visit 
https://groundworkri.org/programs/growing-food/community-garden/
###
Groundwork Rhode Island's Community Garden program is committed to offering community members access to healthy growing spaces, enhancing opportunities for residents to develop a meaningful, educational, and productive relationship with the environment.  In addition to providing healthy spaces to grow food and local plants, we host workshops and offer resources to help growers successfully manage their gardens throughout the seasons.  Groundwork encourages gardeners to find their own unique and personal connection to their plots and the plants they steward.  We do not specify what members should grow in their plots. We do, however, have guidelines for growers to follow so that all can enjoy the same benefits of healthy, safe, and productive garden.