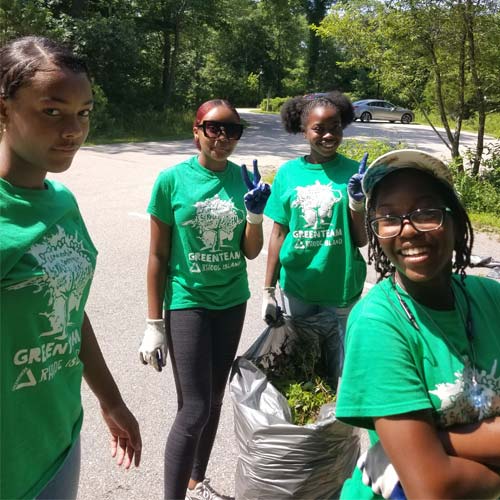 Green Team Applications Due June 5th & June 18th
Are you between 14-18  years old and want to make a difference in your community?
Groundwork Rhode Island is hiring for our summer Green Team Program in Providence, Pawtucket and Central Falls! Our Pawtucket and Central Falls team is called Green Change Makers to reflect our collaboration with Southside Community Land Trust.
This summer we will be hiring 8 high school age youth in Providence and 13 high school age youth in Pawtucket and Central Falls. Applicants must live in the respective cities they are applying to in order to qualify. Both teams will be working for six weeks, engaging in environmental education programs and community service projects that improve the city's environment. We will be following the state of Rhode Island's Covid-19 health guidelines as needed.
Pawtucket/Central Falls (PCF) Green Change Makers Application Deadline: June 5, 2022 by 5pm.
Providence (PVD) Green Team Application Deadline: June 18, 2022.
Visit the Green Team Page to access the online applications.
Please contact ahernandez @ groundworkri.org (PCF) and shashem @ groundworkri.org (PVD) for more information.