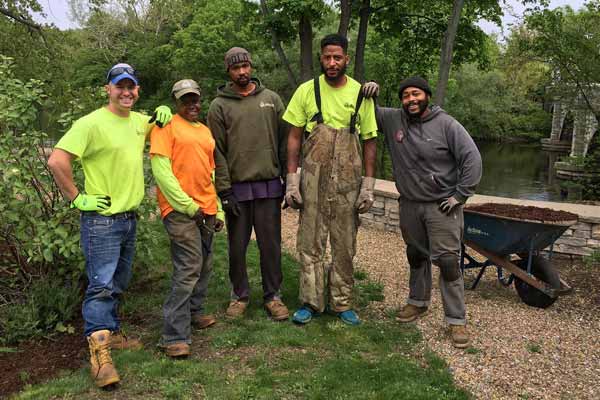 We're hiring! Assistant Director of Field Operations
Groundwork RI is hiring for a new Assistant Director of Field Operations!
Join our team and help build out our GroundCorp landscaping program!
GWRI seeks an experienced landscape professional to work under the supervision of the Director of Field Operations to plan, direct, manage, and assist operations of Groundwork RI's landscaping social enterprise, GroundCorp. GroundCorp is a landscape and community development design-build that offers hands-on training and transitional employment to graduates of our EPA-funded Adult Job Training program. Services and programs of GroundCorp includes landscape construction, green infrastructure design and installs, maintenance, planting designs, lead soil remediation, tree and plant installation, job training, and snow removal.
The ideal candidate will have strong knowledge of horticulture, landscape construction and maintenance, equipment repair, equipment operations, stormwater mitigation, carpentry work, and be able to read landscape design plans. Candidates must have excellent communication skills and a strong desire to help GroundCorp crew members improve their economic well-being and job-readiness through paid on-the-job training.
See full job description here:
Assistant Director of Field Operations Job Description
Salary and Benefits
This is a full-time position (35 hours per week). Applicants seeking half-time positions are also welcome to apply. Salary starts at $40,000/year with potential for salary increases as the program grows. Full-time staff receive paid vacation, personal, and sick days. GWRI offers the following benefits for full-time staff: employee-only health/dental, SIMPLE IRA with employer matching after one year of employment.
To Apply
Please email a cover letter and your resume to Amelia Rose at arose@groundworkri.org and Steve Ricci at sricci@groundworkri.org.
Equal Opportunity
Groundwork Rhode Island is committed to the principle of equal opportunity in employment for all employees. We encourage enquiries from candidates who will enrich and contribute to the cultural, ethnic, and racial diversity of our organization. Groundwork Rhode Island does not discriminate on the basis of age, race, creed, color, religion, marital status, gender, sexual orientation, veteran status, national origin, or disability status in employment or programming. Groundwork Rhode Island is an equal opportunity employer.