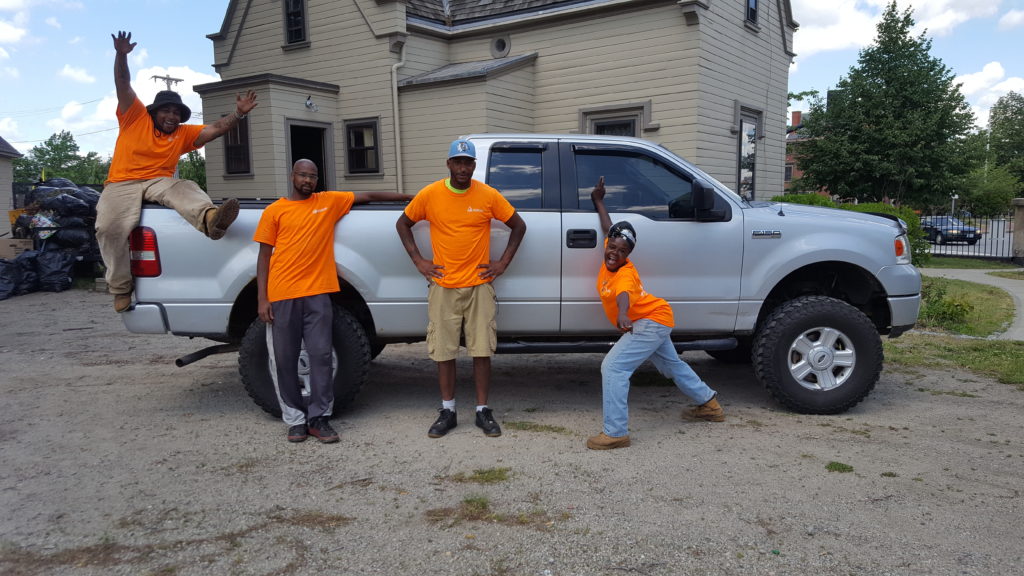 Groundwork Rhode Island is now running Harvest Cycle – a year-round residential compost pickup service! Food scraps are picked up and composted by our own GroundCorp landscape crew at one of two local compost depots–our Ring Street community garden in Federal Hill, and Frey Florist in Smith Hill in partnership with Earth Appliance Organics. 
Subscribe to Harvest Cycle in two easy steps!
2. Pay online:
Paying a bit more if you can afford to do so will allow us to offer more subsidized pickups for those who can afford less.
This program is designed for those customers who would choose $0 in the pay what you can afford menu.
If you would like to make a one-time donation to the subsidized pick-up program, please do so through the general donation button at the top of the screen, and send an email to kmurphy @ groundworkri . org to let us know to earmark that donation for Harvest Cycle!
—
In order to reduce greenhouse gas emissions and maintain a hyper-local model, we are currently growing our customer base in targeted areas along our current route, and near our existing drop-off sites. This serves our long-term goal of picking up from all of our customers by bicycle. We are currently prioritizing new customers in the East Side, Federal Hill, Elmhurst, South Providence, and West End neighborhoods. We also serve Pawtucket residents close to the Providence line. If you live outside of these neighborhoods, please still get in touch and let us know your interest! This way we can determine how and where to expand to next. We may determine we can add you as a customer right away, or will let you know when it is likely we will expand to your neighborhood. 
How it works:
1) We give you a 5-gallon bucket and you fill it with food scraps.
2) Every two weeks you will receive an email reminding you to put your bucket out. We will collect the food scraps the next morning, leaving the bucket behind with some sawdust on the bottom to mitigate smell.
4) We will compost your food scraps at our Ring Street garden.
5) You will receive some finished compost in the spring for your garden, or you can choose to have it donated to a community garden.
—
Groundwork RI's youth and adult employment programs are both involved in the food scrap collection, processing, and food growing operations, creating economic opportunity for local residents!
We are currently picking food scraps up from the Federal Hill and West End neighborhoods by bicycle, and from other areas on a truck.
We are also interested in hearing from small businesses, multi-unit apartment buildings, and institutions (schools, hospitals, etc.) about your composting interests and needs. We can help you set up a composting system on-site, provide pickup service through Harvest Cycle, or connect you with other composting businesses and efforts in RI that might better fit your size/volume of food scraps and needs.
Please contact Katie at kmurphy @ groundworkri.org with any questions or if you have any trouble registering online.