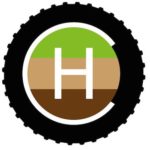 Groundwork Rhode Island is now running Harvest Cycle – a residential compost pickup service!  Any Providence or local area (Pawtucket, Central Falls, Cranston, North Providence, etc.) resident can sign up to have your food scraps picked up and composted by our own GroundCorp landscape crew.
We give you a 5-gallon bucket, you fill it with food scraps, we pick up every two weeks and turn your food scraps into nutrient-rich compost at our own garden sites and local urban farms. Groundwork RI's youth and adult employment programs are both involved in the food scrap collection, processing, and food growing operations creating economic opportunity for lower-income residents!
If you would like us to consider starting a new route where you live, please contact Amelia at arose @ groundworkri.org. We typically need 5 or more customers in an area to begin a new route.
More information to come. including payment options on our website! In the meantime, please continue to use www.harvestcycle.org for payment and subscription information.