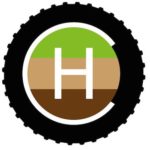 Groundwork Rhode Island is now running Harvest Cycle – a year-round residential compost pickup service!  Any Providence or local area (Pawtucket, Central Falls, Cranston, North Providence, etc.) resident can sign up to have your food scraps picked up and composted by our own GroundCorp landscape crew.
We give you a 5-gallon bucket, you fill it with food scraps, we pick up every two weeks and turn your food scraps into nutrient-rich compost at our own garden sites and other local urban farms. Groundwork RI's youth and adult employment programs are both involved in the food scrap collection, processing, and food growing operations creating economic opportunity for lower-income residents!
We are also interested in hearing from small businesses, multi-unit apartment buildings, and institutions (schools, hospitals, etc.) about your composting interests and needs. We can help you set up a composting system on-site, provide pickup service through Harvest Cycle, or connect you with other composting businesses and efforts in RI that might better fit your size/volume of food scraps and needs.
Please contact Amelia at arose @ groundworkri.org with any questions or if you have any trouble registering online.
subscribe to Harvest Cycle in two easy steps!
2. Pay online Below:
Let us know if you would like to pay by check!  Thank you.